Justin Bieber appears to be in good spirits amid his recovery from Ramsay Hunt syndrome. 
The 29-year-old singer took to his Instagram Wednesday to update fans on his health condition by showing mobility in his face. 
Bieber shared a video to his Instagram Story where the camera zoomed in on his face. He blinked, rolled his eyes and raised his eyebrows in the video. 
The caption on his social media video said, "Wait for it…."
JUSTIN BIEBER CANCELS JUSTICE WORLD TOUR: 'I NEED TO MAKE MY HEALTH THE PRIORITY'
Toward the end of the video, the Grammy winner is seen flashing a big smile on camera. 
Bieber donned a blue and yellow puffer jacket, with a gray hooded sweater underneath.
The song "Ice T," by R&B singer Tems was heard playing in the background of the video.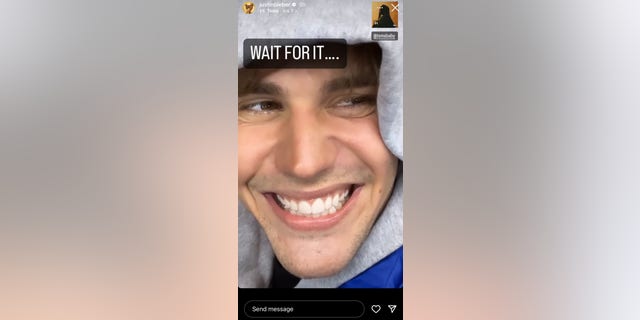 Ramsay Hunt syndrome "occurs when a shingles outbreak affects the facial nerve near one of your ears," according to the Mayo Clinic.
The virus can cause facial paralysis and hearing loss.
The "Peaches" singer's sweet video comes after he canceled his Justice World Tour in September to focus on his health.
Bieber posted the announcement for his fans via Instagram.
"Earlier this year, I went public about my battle with Ramsay Hunt syndrome, where my face was partly paralyzed," he wrote. "As the result of this illness, I was not able to complete the North America leg of the Justice tour."
The "Never Say Never" singer revealed he had decided to "take a break" to get some rest as his health needs to be his priority.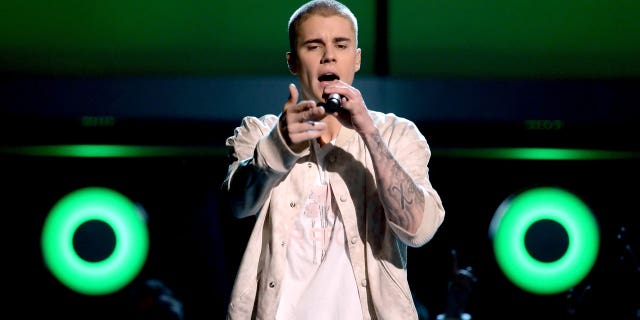 "After getting off the stage, the exhaustion overtook me and I realized that I need to make my health the priority right now. So I'm going to take a break from touring for the time being. I'm going to be ok, but I need time to rest and get better," he said in part.
JUSTIN BIEBER TO RESUME JUSTICE TOUR FOLLOWING FACIAL PARALYSIS DUE TO RAMSAY HUNT SYNDROME DIAGNOSIS
On June 10, 2022, Bieber uploaded a video showing one side of his face paralyzed. 
He showed fans that he cannot blink his right eye, move his right nostril or smile with the right side of his mouth.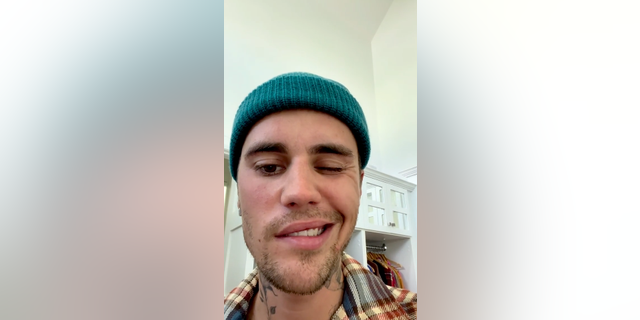 "For those who are frustrated by my cancellations of the next shows, I'm just physically, obviously, not capable of doing them," he said. "This is pretty serious as you can see. I wish this wasn't the case, but obviously my body is telling me that I've got to slow down.
"I hope you guys understand. I'll just be using this time to rest and relax and get back to 100% so that I can do what I was born to do."
CLICK HERE TO SIGN UP FOR THE ENTERTAINMENT NEWSLETTER
Bieber thanked his fans for being "patient" with him as he recovers.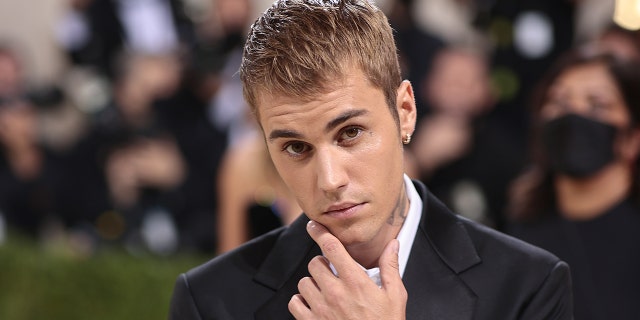 "I'm going to get better, and I'm doing all of these face exercises to get my face back to normal," he said. "It will go back to normal, it's just time. We don't know how much time it's going to be. It's going to be OK."
CLICK HERE TO GET THE FOX NEWS APP
Bieber captioned the video "IMPORTANT PLEASE WATCH. I love you guys and keep me in your prayers."
At the time, Bieber canceled multiple shows in Toronto at Scotiabank Arena.
Fox News Digital's Lauryn Overhultz contributed to this report.